History of Salem
Salem - the city of Mangoes, as we know it now, was an erstwhile village of a few hundred people way back in 1857. This is surrounded by hills - hence the name - the one surrounded by hills (Sailam). British Rulers declared it the Capital city in 1860 wherein a Municipal Council commenced in 1866. Now it has a population of over 9 lakhs and harnesses potential urbanization, though it tries to keep its peace of yesteryears. It claims to have antiquity of over 2000 years as per excavation of Romanian Silver coins from Koneripatti (in 1987).

Landscape
A lovely city on the bank of Thirumanimuthar river (Panchakshara River) with an area of 124 km2 is 289 metres msl. 160 km of northeast of Coimbatore, it is located in North Centre part of Tamilnadu at a distance of 340 km from Chennai.
Salem is known for textiles especially Dhotis and Carpets, manufacture of Silver Anklets, Cultivation and Production of Sago from Tapioca. This amounts to 11 % of Sago production of Tamilnadu. The city is known for production of steel from its iron ores and the city gets its name Steel City. Arecanut is growing in some parts of the district. This is rich in minerals and magnesite has a wealth of iron ore. As the city in the midst of three National Highways, it is an important Junction. Since many years, the city is known for shortage of water. This was partly solved by getting connected to the nearby Mettur dam that was built across river Cauvery.
As part of Eastern ghats, the city is surrounded by Kanjamalai, Jarugumalai, Shevroys and Kalrayan ranges. This was ruled by Pandya Kings in 2nd Century AD, Pallava dynasty in 4th Century and later in 12th Century by Chola Kings. Though it came under Vijayanagara Kings in 14th Century, by 18th Century it came under the rule of Hyder Ali. It is said that on the basis of the record of Tippu Sultan and East India Company fought in a battle in 1792 and this part of the country, Salem and its neighborhood came under British Rule.
Temples

Divine blessings came to the city by the presence of Fort Mariamman Temple, Kottai Perumal Koil, Sugavaneswarar Temple, Uthama Sozhapuram Temple, Rajaganapathy Temple etc. It is heard that the great Tamil Poet and grandmother Avvaiyar performed the marriage of renowned King Pari Vallal's daughter Angarai and Sangarai at Karapurnathar temple at Uthama Sozhapuram. The famous gift, the rare fruit "Amalaka" (gooseberry) that King Adhiyaman gifted to Avvaiyar came from Kanjamalai.
Sugavaneswarar temple has the distinction of the uniqueness of contructed in the form of Pranava. This is 1100 years old, built by Pandya King. The choultry, walls and tanks were erected at different periods of time. The temple has gained the name Chaturvedamangalam. It is said that this temple deity was addressed by Saiva saints Sundaramurthy Nayanar, Avvaiyar and Arunagirinathar. Some of the divine images in Sugavaneswara and Fort Perumal Temple are sculpted in the 9th Century by Chola or Pandya Kings. The other temples in the town Shevapet Kannigaparameswari and Mariamman Temple. Chinnathirupathi, Skandashramam, Kumaragiri Dandayuthapani Temple and Namamalai Ramar Temple, Gugai Virabhadrasamy Temple speak volumes of religious fervor of the people of Salem. Recently to mark the 1000th year of advent of Sri Ramanuja, a Temple in the outskirts of the city was dedicated to the Acharya and along with the four Divya Kshetras dear to him.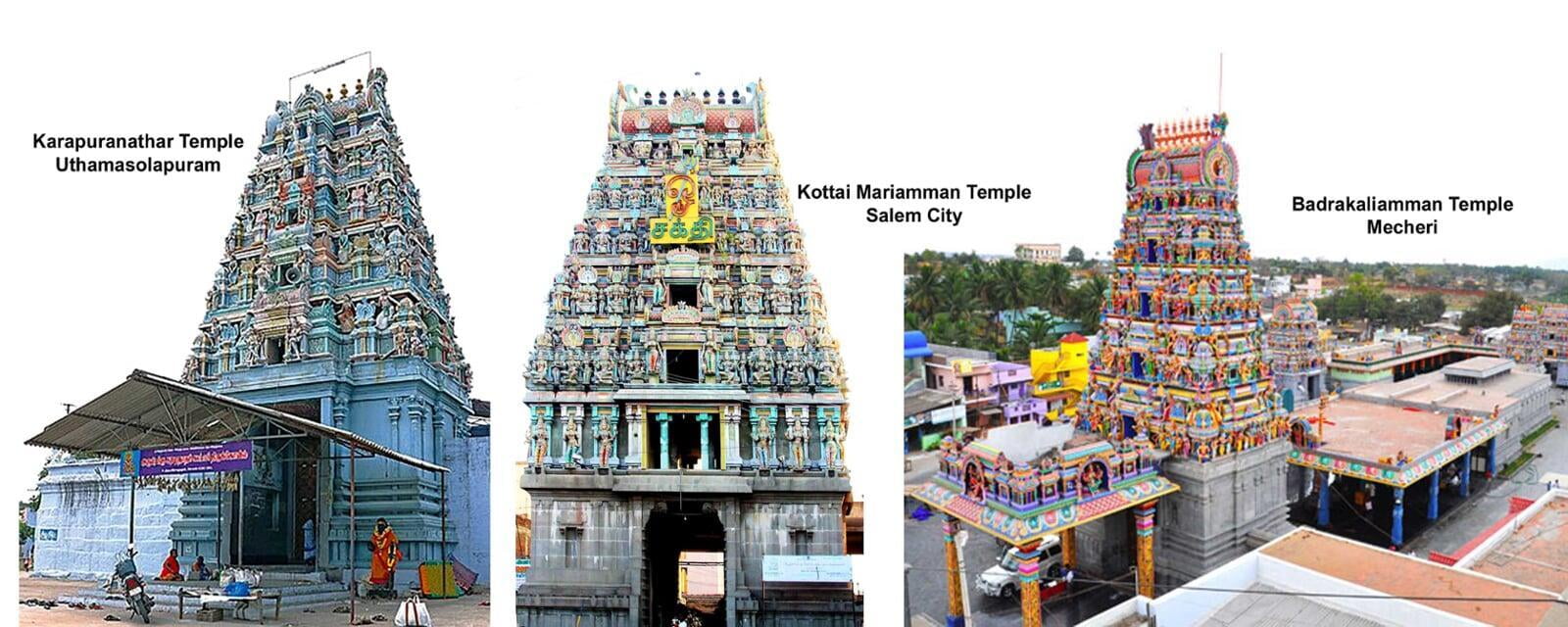 Culturally, the city is known for musicians like Azhagararayar the famous Sourashtra poet, Doraisamy Iyengar, Chellam Iyengar, G. Desikan, Dr. Jayalakshmi and Drama artist Kalaimamani T. V. Rathinappa. Cini production started way back in 1931 by T R Sundaram, Velayutham Pillai. The cini doyen T R Sundaram's Modern Theatre with over 99 films to his credit has left an indelible mark in the history of Salem City.
Socially, Salem is known for varying thoughts and philosophy such as fanatic atheism, communism, casteism. May be city has contributed to the present fabric of political system prevailing in Tamilnadu in modern times.
Patriotism - the flavour of Salem
During the war between Tippu and East India Company is 1792 a small warrior Deeran Chinnamalai held a part of the state of Chennimalai and Sivanmalai and fought with the foreign forces. His gorilla warfare surprised the Brittish. He was captured by the Brittish in 1805 and sent to the gallows at Sangagiri Fort. During the Brittish Rule, Salem included 12 administrative regions such as Krishnagiri, Dharmapuri, Uthangarai in the north and Salem, Omalur, Namakkal, Thiruchengode, Sankagiri and Bhavani in the south. It was split by Col. Reid for administrative convenience into Northern Krishnagiri, Central Dharmapuri and Southern Salem in the early 19th century. Capital of this large part of the land got shifted to Hosur, Dharmapuri, Salem etc until in 1860, Salem became the permanent capital.
Since then, the next 150 years, Salem gave freedom fighters and nation builders like Sri Vijayaragavachariar, Sri C. R @ Rajaji@ Rajagopalachariyar, Salem G Ramasamy Mudaliar, Sundaram Chettiar which are glorious names in the freedom struggle. Visit of Mahatma Gandhi in 1920, 1921 and 1934, his visit to Gandhi Ashram at Tiruchengode in 1923, strengthened the dedication of the people of this district and town in fighting for freedom of the nation. Khadi movement, uplift of Harijans, fight against untouchability are the taraka mantras of the large number of people of Salem and neighboring towns and villages quite befittingly an Asoka pillar built in 1950 commemorates the patriotism, culture and religious fervor of the people of Salem.
Till the 1950s very few educational institutions were available for providing good education. It was the vision of Seethalakshmi Ammal and Ramasamy Chettiar that brought Salem on the educational map of Tamilnadu. Sarada Vidyalaya started in 1956 by this couple brought in later years, a chain of educational institutions like Sarada College for Women, Sarada College of Physical Education etc., providing best education especially for women.
Salem district can boast of one of the greatest poet, Ramalingam Pillai of Namakkal who wrote patriotic songs. He was ardent devotee of Swami Vivekananda, his guru Paramahamsa Sri Ramakrishna and his poems are full of the spirit of our Nation, Dharma and sense of freedom. Rajaji, the beacon light for the founders of Salem Ashrama, encouraged Sri B.V.Namagiri Iyer and Dr. Narayana Iyer first by providing societal asylum when the society treated Dr. Narayana Iyer as an outcaste for having crossed the sea for his medical study at UK. Rajaji, as Chairman of the Municipality then in 1917 named the site in front of proposed Ashrama Land as Ramakrishna Park and the road as Ramakrishna Road.
Mangoes of Salem District
Rich in cultivation of Mangoes, the areas of Dharmapuri, Krishnagiri of the erstwhile district of Salem, produced quality fruits and they are of so many varieties.
They are known as: Salem Gundu, Salem Nadusalai or Peethar, Salem Malgoa, Rumani, Imam Pasandh.
Places of interest in and around Salem
Shevaroy Hills: A vast range of hill with semi evergreen vegetarian attracts the nature lover as well as pleasure seeker. The grand lake and the boating invites tourists to Yercaud the prominent town in the Shervaroys. It is about 30 km from Salem city.
Mettur Dam: A engineering brilliance over River Cauvery at Mettur has been a source of relief for farmers in agriculture. This is now an industrial town with chemical and generation of power and others.
Fort at Sankagiri, Lakes at Pannavadi, Mookaneri and Poolampatti as well as Kurumbapatti zoological park are of interest to everyone.
1008 Shivalingas installed at Ariyanoor in the Coimbatore highway, temples at Taramangalam and the Skandashramam at Udayapatti are of divine fervour for the aesthetics.